Laptop Donations
Providing our next generation with the laptops they need to access educational resources.
Having access to IT equipment is crucial for students to keep up with their studies in an educational environment which is relying increasingly on technology.
Unfortunately, there are many children and young people in our community who don't have access to laptops and as a result are at a disadvantage.
In fact, it is estimated that 9% of children nationally don't have access to a laptop computer to use for their schoolwork at home.
To tackle this issue MK Community Foundation have partnered with IT experts, "It's What's Next IT" in Bletchley, to make sure more children have access to a computer at home.
How it works:
It's What's Next IT take donations of unused laptops in any condition from businesses of any size.
They assess the laptop to see if it can use used by a child or young person for their homework.
All data on the laptop is securely wiped, to a military standard, and it is then refurbished.
After being made to work beautifully it will be delivered to the school to pass on to the student who needs it.
If your business has old, unused or surplus laptops, please donate them so that together we can ensure that more young people are able to reach their full potential.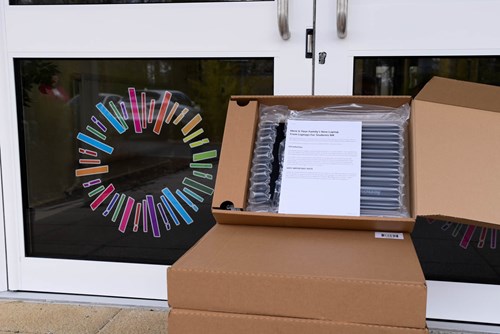 Local business donates a laptop a month to students in need
Tim Chamberlain of Thomas Bartram Ltd donated 12 new laptops to MK Community Foundation this year, as part of their Laptops for Students Scheme.
MK Community Foundation are working in partnership with It's What's Next IT, to refurbish donated old, used, or surplus laptops to distribute to students under the age of 18 living in Milton Keynes.
The scheme, launched in March 2021, encourages businesses and local people to get involved by donating their devices so they can be put to better use, ensuring a brighter future for many young people in the community.
Tim said,
"I feel very privileged to be able to support the work of the MK Community Foundation by helping the local community with home schooling, particularly in these trying times. If all local businesses were in a position to donate a laptop, just imagine what a difference it could make."
MK Community Foundation discovered through their latest Vital Signs research that some areas of Milton Keynes show child poverty rates as high as 31%. On top of this, wages have dropped at a much larger rate in Milton Keynes than in the rest of the nation, making it harder for working families to make ends meet.
Kay Smith, Philanthropy Manager at MK Community Foundation, said
"The Laptops for Students MK programme will give young people access to essential IT resources, not just during lock down but when ever they require it. Supporting them through their education and employment preparation journey."
If you would like to find out more about the scheme, or to donate a laptop please click below.
MK Community Foundation is the leading grant-making charity, sending funding where it's needed most in Milton Keynes. By guiding businesses, philanthropists and charities to the right giving and grants, we're on a mission for a fairer community. Since the MK Community Foundation began in 1986, we have awarded over £20 million worth of support through grants and rent subsidy to our local voluntary sector.
For more information, contact Rebecca Howlings: rebecca.howlings@mkcommunityfoundation.co.uk